02-01-2008
A lot has happened since my last post. This is not surprising, as I have done a lot since then: First of all I went sailing in the first week of October on the very FP Athena 38 that made me think about catamarans in the first place. Since October I have been a 100% committed catamaran convert. I was fairly sure before then, but now I am 100%.
After the October charter on the Athena I immediately ordered and submerged myself in Chales E. Kanter´s: Cruising Catamarans Communique. It has helped me form a list of qualities I need to look for in catamarans. Prior to reading his book I had a reasonable list of features that I found desirable, but with his knowledge backing me, it's easier to move forward. I also contacted one broker, in order to get the brokers point of view. I know there are many brokers out there and since I don't have the advantage of knowing the American market very well, I talked to catamaran owners and read what I found online. In the end I contacted Phillip Berman from The Multihull Company. He's certainly very knowledgeable and I feel that the information and advise he has given me has been very straight forward and valuable.
In November I traveled to the US and met up with Darrell McDaniel from the Florida office of The MultiHull Company, as Phillip was busy elsewhere. Before I buy it is essential that I see as many catamarans as possible and Darrell showed me a wide range in the three days I went around with him. We looked at: Leopard 45, FP Venezia 42, FP Bahia 46, Lagoon 380 S2, Lagoon 410, Lagoon 42, Lagoon 440, Privilege 39, Privilege 395, Privilege 465, Broadblue 46, Manta 42 MK2, Nautitech 47, Kennex 445 and Voyage Norseman 44. It was very interesting to see all of them and write down some notes and take pictures. It's always tough to get to know a boat without going for a sail, but the initial feeling is something I trust.
After seeing all of them, there were a few boats I definitely didn't like, but instead of listing them, I can focus on the boats I like. My favorite was by far the Manta. It is a boat built for cruising and has a philosophy behind it that I can identify with. I'll write more about Manta later.
The other cats I liked was the Lagoon 410, though I have issues with the lack of storage and counter space in the galley. I also liked the Kennex 445, but it's an old cat, the last one to roll off the production line did so in 1996. The other cats had too much of a charter feel to them and I seriously wouldn't want to live onboard them. My feelings might have been different had I seen the Owner versions of the boats, but for most of them, the only ones I could see was the 4 cabin lay-outs, specifically made for chartering. There are a few cats I would have liked to have seen, Seawind 1160 and the Outremer (though I believe the Outremers will be out of my league budget wise).
A week later I was in Tortola and I walked over to the charter base and looked around at the boats. I basically looked at the entire range of Leopards without being impressed. I just don't like them. I also looked at more Lagoons and a Fountaine Pajot or two. I prefer Lagoons to Fountaine Pajot, but until I see a owners version I'm not going to be convinced.
In December I drove up to Sarasota and met Dan Evans from Manta Catamarans. He showed me around at their factory and then we went for an afternoon sail on a brand new Manta MK4 together with Joe Hanko from the Rhumbline Sailing School. Though we only experienced very light winds, we got the Manta moving with as little as 4 knots of apparent wind. The Manta is so easy to sail that anyone can do it. I also like the lay-out onboard, the storage space and the feel of it ... I think the only thing I would like differently would be windows in the salon to be like the Lagoons. Given that, this boat would be a definite winner.
Now I'm back in freezing Beijing dreaming about warmer weather and fairer sailing. The good thing is that I've sold my house in Norway, so now I'm one step closer to getting a boat. The plan is still to buy a boat next spring, leaving me 1 year to see all the boats I want to see and lock down which I want to go for.
Right now it looks like a Manta ... It'll be exciting to see if I find another cat that changes my mind.
05-05-2007
When looking at a catamaran I'm looking for the following features. Basically this list helps me eliminate catamarans that won't measure up to the kind of sailing I want to do.
1. Size: 38 – 44 feet in length.
2. 360 degrees visibility of the outside when seated inside.
3. A high bridgedeck clearance of 6% of LWL.
4. Good sailing performance, particularly in light airs.
5. Outside helm protected from the elements (should be inside the cockpit).
6. 30 hp engines.
6. Easy access to engine compartments from inside with ample space to work on them in all directions.
7. A comfortable cockpit with good area to sit around a table.
9. Easy to sail singlehanded.
8. A good targa for solar panels, radar, GPS and dingy davits.
9. Deep anchor locker.
10. 2 heads with short and direct runs.
11. A good galley up, unless it has an amazing galley down.
Armed with this list I've had a look at a ton of catamaran designs: Admiral, African Cats, Atlantic 42, Broadblue, Catana, Dean, Fountaine Pajot, Gunboat, Lagoon, Leopard, Manta, Maine Cat, Outremer, PDQ, Privilege, Seawind, St. Francis, Voyage. I'll soon post again with how the different designs did on my list and which I'm interested in test sailing (and maybe buying).
03-05-2007
3 months has passed since I last wrote. Much has happened since then. I spent February and March planning like normal: talking back and forth with Hans Lange at Lange Maritime, working out the details for the brand new Ovni 395 I wanted to buy. The plan was to spend this year working out the details and buy it next year. Sounds simple? … It could have been, but then I wouldn't have been doing my preparations like I should. The first ripple in the pond was caused when Steffi came visiting bringing with her Beth A. Leonard's book: The Voyagers Handbook. The book got me thinking that buying new perhaps wasn't the best way to go. Buying a used boat would allow me to buy an Ovni 435, a boat I wanted more than the 395, and still have change left.
The pivotal change happened when Steffi and I were sailing in Thailand. We chartered a boat and when the fuel filter got clogged the charter company sailed out on a cat to fix it. While they were trouble shooting and changing the filter, Steffi and I had a look at the cat. I was thoroughly impressed by what I saw. Steffi immediately fell for the idea as well, so my research when I came back took a drastic change. Instead of looking at mono-hulls I was digging up everything I could find on catamarans.


I had to work my way through my normal prejudices:
1. They are not made for offshore sailing.
2. Once they flip, they stay flipped, unlike a mono-hull, which will roll back again.
3. You can't add any weight to them without seeing a very detrimental effect on sailing performance.
4. They have terrible windward performance
I've had to moderate my views. They are definitely safe for offshore passages, as long as you're not over-canvassed. The modern cruising cats I'm considering are very wide and it would take a Hell of a lot of wind to flip it. If you sail a little on the conservative side, then it's not a problem. Though you can add weight to a catamaran, you need to keep a closer eye on it than you do on a mono-hull. I see it as an advantage, because it forces me to be more selective with what I want to bring. In terms of terrible windward performance, then it's not as bad as I thought and in some cases a LOT better than I thought possible.
The good things about a catamaran:
1. Space. It's going to be our floating home for 3+ years. It's nice to have some space, both for the things we want, but also for visitors. There is also a lot more deck space to enjoy life on. (This also means more space to maintain, wash, polish, etc)
2. No more sailing on an angle. On a cat you always sail flat, so you can actually have a normal life onboard, even when you're sailing. It's also much better when you anchor. No more rolling from gunwale to gunwale.
3. Speed. The cat is faster than a mono-hull and even a slow one will put in daily averages of 170 nm without any effort (with a little extra effort it's no problem to put in 200+ nm days). By comparison I could never calculate more than 120 nm per day on my old boat.
4. Shallow draft. Most stick less than 1.2 meters, opening up many harbors and areas you won't get to with a deep keel. (Granted this wouldn't have been a problem on the Ovni with its centerboard).
4. Redundancy. You have two engines, two bathrooms, etc. If one breaks, you still have another one. (It also means more maintenance, but all in all it's worth it.)
5. Maneuverability. With two engines it's easy to maneuver around in harbors.
6. Unsinkable. They don't have a few tons of lead onboard, so even if you crash into a container or flip, you won't sink. Needless to say this is something I'm not planning to test.
I'm in the process of making a short list of features I'm looking for on a catamaran. Likewise I'm also compiling a list of extras I want: watermaker, autopilot, etc.
I'll probably post it soon.
The problem with buying a catamaran is that it is quite expensive. Luckily my original plan was to buy a new Ovni, so I was expecting to spend a solid amount change. We'll see how far my money reaches, while still giving me cash to sail for at least 4 years. I'm also re-evaluating my original thought of buying an Ovni, to see if there are other mono-hulls I'd be happier with. When I find a catamaran I really like, I'll see how it measures up to the best mono-hull I can find. … Right now I'm really leaning towards a catamaran.
The hunt continues for the perfect boat to sail around the World on.
20-01-2007
We've clocked in to the New Year and at the moment of writing we now have 2 years 11 months 11 days 6 hours 37 minutes and 18 seconds before 2010 is upon us. I've looked at the things I need to do and then started counting backwards. The plan is to start the circumnavigation in 2010. Prior to that I want to have sailed the boat for a year, giving me time to break it in and get comfortable with sailing it. This means buying the boat in 2009. As I'll be buying a new Ovni this means that I need to order it in 2008, because it takes a year for them to build it. In order to order the boat next year, I need to have freed up some cash and that means selling my apartment before then, so though 2010 seems far away all the preparation that needs to happen before then means that the preparation has to start now … and luckily it has.
My preparation so far:
1. Boat … I'm emailing back and forth with Hans Lange at Lange Maritime discussing details about the boat. When I was in Norway for New Years I made time to go down to their office and showroom, where they had an Ovni 395 on display. I was able to crawl around on it and take lots of pictures and see how it was put together. Compared to the Bavaria 40 Ocean I last had, this is night and day difference. This boat is made for World cruising, the Bavaria for weekend trips. It was love at first sight. I am convinced that within the price-range I can afford, this is the best boat there is. I'll be writing an entry on the Ovni soon.
2. Crew … Steffie definitely wants to do it, but since she hasn't sailed before it is a bit intimidating for her to commit wholeheartedly. We're going to remedy this by chartering a boat in Thailand at the end of March for a week of sailing. It'll be a great way to introduce her to sailing and hopefully make her feel the same way I do about it.
3. Sailing Plan … When I was visiting my father in December 2006, I had a stack of books waiting for me. Amongst them books by Jimmy Cornell and Hal Roth, both very knowledgeable sailors that have circumnavigated the globe at least 3 times each. In addition I'm now waiting for a book by Beth Leonard, because I've heard good things about that as well. In essence I'm not too concerned with planning the route yet, now I'm reading about planning the trip, the boat, the equipment, the finances … I'm also spending a lot of time online reading about ongoing or finished circumnavigations. I'm trying to learn from their mistakes, so that I hopefully won't make as many myself.
4. Sailing Skills … I was hoping to rent an Ovni 435 when I was in St. Maarten in December 2006, but that fell through. Instead I ended up sailing on an Americas Cup boat. Though it was fun, it wasn't exactly the practice I was hoping for. The bareboat charter in March in Thailand should be that and a whole lot more. We'll be on an Oceanis 32 sailing out for Koh Chang in the Gulf of Thailand. I'm really looking forward to that. I'm also hoping that Seilsamvirket or some other circumnavigators will take me on as crew for a vacation. We'll see. I'm working on it.
5. Finances … In terms of financing, things are progressing as well. My original plan was to sell my house in Stavanger and use that money to buy the boat. The only problem was that I could only afford the boat and wouldn't have anything left for sailing. Needless to say there wouldn't be much point in doing that. Since I'll be sailing with Steffie who will also bring money to the table, the numbers quickly add up. The thought now is to section the house and only sell the top apartment and keep the rest of the house for renting out. That way I have some money coming in and also have something to come home to. I have already spoken to Ole Morten Dreyer, a partner at Otttesen&Dreyer, about sectioning the house and selling the top. It helps that he is a friend of mine, so I have absolute confidence that the sale will work out well.
I'm happy to say that things are moving forward on all fronts. As we move forward I'm hoping to write entries on pretty much everything that is going through my head that needs planning. The first big one is the boat. I'll be writing an entry on it very soon. … Oh, working name for the boat is "Aurora Borealis" … It's kind of long and a little difficult, but we'll see … A new update will follow soon.
05-10-2006
I started this blog almost 2 months ago. Normally 2 months of silence would indicate that maybe I had gotten second thoughts ... or even given up. Leaving this as one of the many 1 post blogs you find around. This is luckily not the case, as I have been planning, thinking, dreaming and talking to people about the sailing project. Most importantly I've taken important steps in the right direction on actually ALL the 5 points I had outlined as challenges.
To go through where I stand on all of them right now:
1. Boat ... After much deliberation (and calculation) I have decided that when I set sail it will be in a newly built Alubat Ovni 395. Originally I wanted the Ovni 435, but the way things look now, it isn't economically feasible. Currently I can't afford the 435, so instead of breaking the bank on that one, it's better to step down to the 395 and get it fully equipped instead. I'll talk more about the boat and my reasons for choosing it in a later entry.
2. Crew ...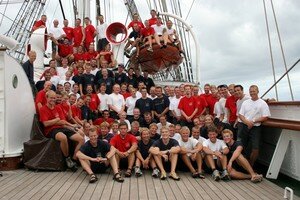 This is a work in progress, but right now Steffi a lovely Austrian girl I meet this summer (Not Steffie Graf) is very interested and we've started laying some plans to that end.
3. Sailing plan ... This is at the moment the area I've done the least amount of thinking. Short of that I want to go around the World and include Antarctica on the journey. Besides that I have a lot of work ahead of me.
4. Sailing skills ... I've been in touch with 2 different boats. One boat is owned by a Norwegian that is on his second circumnavigation. Having completed the first one from 1994 - 2002. He's currently on Fiji, but will wait out the Typhoon season and start sailing again in April 2007, at which point I could join and sail with him for a few weeks to get some experience. The second boat is a group of Norwegians known as Seilsamvirket. They start sailing soon from France where the boat was built. The interesting thing about them is that the boat is built by Alubat, the makers of the Ovni that I want to buy. Though they bought a different boat, it'll still be very interesting. I'm not sure when I'll have a chance to sail with them, but I am on their list and waiting. In December 2006 (2 months from now) I'll be heading to the Caribbean to cruise with my father on the Jewel of the Seas and one of the ports of call will be St. Martin, where they actually rent out Ovni's. So I'll try to rent one for the day or at the very least go on board and have a solid look around.
5. Finances ... After having checked prices of boats and had a long talk with my bank "guy". I now have enough money to buy the Ovni 395 fully kitted out. However, I don't have enough money for actually sailing, which is a problem, but I have 3 years to figure out how to solve that. So I'm not too concerned.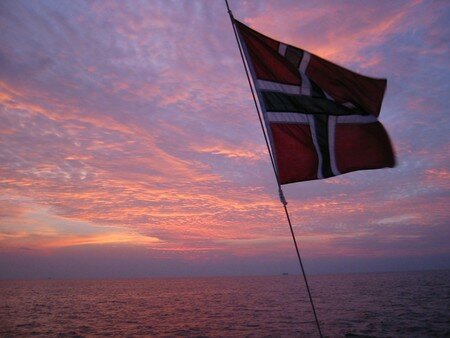 All in all I'm on track. I'll get into detail about all of the above mentioned points in later posts. This was just a short summary, to show that I'm on track and heading in the right direction.
Right now 2010 is 3 years 2 months 26 days 12 hours 3 minutes and 30 seconds away.
Things are looking good!
16-08-2006
In 2010 I'm going to set sail on a circumnavigation. I'm making this blog to keep track of my progress and so that you can read it and help me stay on track. Right now 2010 is 3 years 4 months 17 days 1 hour 21 minutes and 18 seconds away … That seems like a long time, but I have this strange feeling that time will fly, especially when I look at the list of things that I'm missing: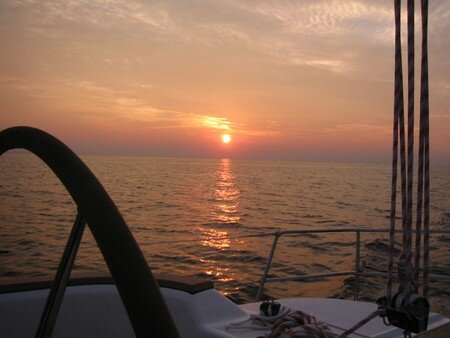 1. A boat (somewhat crucial for a circumnavigation).
2. Anyone to come with me (Ellen McArthur sails alone, but why should I endure that?)
3. Any sort of plan of where to sail (True I live by the spur of the moment, but …)
4. Good sailing skills (I would call my skills in sailing mediocre at best).
5. The finances to pull off a sailing trip (Hopefully I'll come up with something smart).
Though the list looks a bit long and discouraging right now, I'm obviously optimistic, because if not I'd never expose myself like this for everyone to read. I'm sure that the list will grow when I start planning, but hopefully I'll be able to start checking off some of the points as well.
Now the planning begins for what I know will be an adventure of a lifetime.